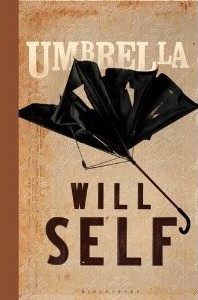 Umbrella
, was published in the UK by Bloomsbury on 16th August 2012. You can buy online at
Amazon.co.uk
.
Umbrella was published in the USA by Grove Press on January 8th 2013 – You can buy online at Amazon.com
"A brother is as easily forgotten as an umbrella." James Joyce, Ulysses
Recently having abandoned his RD Laing-influenced experiment in running a therapeutic community – the so-called Concept House in Willesden – maverick psychiatrist Zack Busner arrives at Friern Hospital, a vast Victorian mental asylum in North London, under a professional and a marital cloud. He has every intention of avoiding controversy, but then he encounters Audrey Dearth, a working-class girl from Fulham born in 1890 who has been immured in Friern for decades.
A socialist, a feminist and a munitions worker at the Woolwich Arsenal, Audrey fell victim to the encephalitis lethargica sleeping sickness epidemic at the end of the First World War and, like one of the subjects in Oliver Sacks' Awakenings, has been in a coma ever since. Realising that Audrey is just one of a number of post-encephalitics scattered throughout the asylum, Busner becomes involved in an attempt to bring them back to life – with wholly unforeseen consequences.
Is Audrey's diseased brain in its nightmarish compulsion a microcosm of the technological revolutions of the twentieth century? And if Audrey is ill at all – perhaps her illness is only modernity itself? And what of Audrey's two brothers, Stanley and Albert: at the time she fell ill, Stanley was missing presumed dead on the Western Front, while Albert was in charge of the Arsenal itself, a coming man in the Imperial Civil Service. Now, fifty years later, when Audrey awakes from her pathological swoon, which of the two is it who remains alive?
Radical in its conception, uncompromising in its style, Umbrella is Will Self's most extravagant and imaginative exercise in speculative fiction to date.
Read an extract of Umbrella in PDF format on the Waterstones website.
Umbrella has been longlisted for the Man Booker Prize 2012.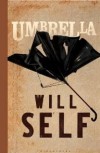 Umbrella.
UK: Order at Amazon.co.uk
USA: Order at Amazon.com