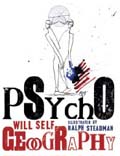 Psychogeography – Will Self


See all books by Will Self at
Amazon.co.uk | Amazon.com





Synopsis:
Provocateurs Will Self and Ralph Steadman join forces in this post millennial meditation on the vexed relationship between psyche and place in a globalised world, bringing together for the first time the very best of their "Psychogeography" columns for the "Independent". The introduction, 'Walking to New York', is both a prelude to the verbal and visual essays that make up this extraordinary collaboration, and a revealing exploration of the split in Self's Jewish American British psyche and its relationship to the political geography of the post 9/11 world. Ranging from the Scottish Highlands to Istanbul and from Morocco to Ohio, Will Self's engaging and disturbing vision is perfectly counter pointed by Ralph Steadman's edgy and beautiful artwork.