One of the first reviews of Liver, from Time Out.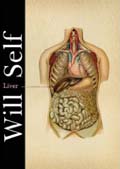 Liver – Will Self


See all books by Will Self at
Amazon.co.uk | Amazon.com





Synopsis:
These remarkable new pieces from Will Self each feature the largest of our internal organs: the liver, in varying states of disease and decay. In "Foie Humane" we go inside a Soho drinking club, the denizens of which live in a highly stylised yet emotionally dead state of excess. "Prometheus" tells the story of a dazzlingly successful advertising copywriter who can sell anything to anyone at any time. But things go wrong when he meets Zeus, a bigshot entrepreneur with a beautiful and manipulative wife. Tony Phillips' subterranean Kensington flat is the setting for "Birdy Num Num," where obsessives spend their days in a crepuscular realm of cocaine and heroin. Finally, in "Leberknodel', a terminal liver cancer patient travels to Zurich to commit assisted suicide. When she arrives, however, the cancer mysteriously goes into remission.